TB-SQUARE.
The world's most extensive* source of professional beauty information.
Exciting experiences and discoveries await your visit, in a space packed full of ideal salon images.
TB-SQUARE is a comprehensive, professional beauty information epicenter, showcasing new salon menu, equipment and space designs, and offering trainings for techniques as well as consultation and advice on business management and the problems faced by salon staff.
Experience the innovative Takara Belmont approach to supporting salon creation, with free-ranging experience and demonstrations of our latest equipment lines and salon menus.

(*To our knowledge, in September 2016)
Helping salon operators identify and resolve all kinds of challenges.
The expanded FIND50 offerings, unique* to TB-SQUARE.
You want to bring in the latest salon design trends, you're looking for attractive new treatments options, or you want to open a new salon . . . FIND50 – 50 kinds of content in a vibrant array, unique to TB-SQUARE – helps to identify and resolve all kinds of challenges for the salon operator. All different equipment series are set up in one floor. So you can compare them without going back and forth between the floors as in the case of conventional showrooms. In other floors, take your time, experiencing or watching the newest evolutions of salon services . . . and find the moment that crystallizes your ideal salon vision.
※An advance reservation is required for your FIND50 experience.
※Some are limited to domestic customers.
(*To our knowledge, in September 2016)
Experience Beauty
Spacious free areas, open experience of the latest Takara Belmont equipment and salon menus.
TB Library
Up-to-date information on our cosmetics brands and special events.
Stop in for the latest information on our 11 brands including LebeL and ESTESSiMO, and announcements of special presentations and events. Take time to explore the reference collection on business startup matters.
Communication Hall
A free space for visitor use
View large-format displays of various kinds of information from TB-SQUARE, examine information obtained from the TB Library, meet with friends or associates, or just relax and reflect.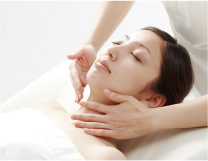 Esthetic Treatment
Nails
Head Spa
Hair Coloring
Experience Booths
Stations for experiencing and observing the latest Takara Belmont equipment, placed in an open layout.
Survey the spectrum of treatments in various model spaces, with demonstrations of our latest equipment and salon menus. Consider the options from every angle, including actual experience of equipment and treatment options you are considering for your salon. Notes: Reservations are required to receive treatments.
Encounter Beauty
A wealth of displays, from standard products to the latest Takara Belmont equipment. View and compare the immense number of items collected together on a single floor.
YUME OASIS & YUME SWING
YUME OASIS
Shampoo and OSP Service Booth
Pick the perfect shampoo unit from a comprehensive selection
View the full lineup of famed Takara Belmont shampoo equipment, and find the one that's most comfortable and best fits your plans. There is also an array of equipment for OSP services.
Styling Chair Booth
Ideas for laying out a salon around the styling chairs
Presenting stylish examples of space design focusing on various chair styles, like the popular HALO and bina lines in our Collaboration Series.
Men's Booth
Ideas for chairs and spaces that highlight services of perfection
An array of men's chairs with luxurious comfort and multiple functions. Check out different combinations of chairs and shampoo unit.
Processor Booth
A comprehensive display of the very newest Takara Belmont equipment for particular uses – perms, coloring, treatments and more. This part of FIND50 lets you experience equipment that is not yet on your salon.
Esthetic and Nail Booth
Explore a wide variety of facial equipment in a private space
An extensive lineup of facial equipment, special nail chairs, and products. Try them while relaxing in the private space.
Design Beauty
Simulations in the Design Lab, accessing all our latest information.
The design you imagine can become a reality.
Interior Space Lab
Simulate spaces while envisioning your actual salon
For example, simulate ceiling heights and aisle for shampoo booths, or the types and positions of styling booth mirrors. For lighting, try different brightness, color temperature and light distribution levels. Experiment with the many samples of flooring and wall finishes.


Takara Design Lab
Collect hints for space creation
A meeting space for decor design. Bring in your designer to review different materials and lighting, as well as construction samples.
Flexible Seminar Room
Multipurpose event and education space
Fully equipped with a movable stage and special lights. Ideal for a hair show, technique training, or other event.
※Available for private events (for a fee)
3rd Floor, Center
Global Booth
Takara Belmont around the world
Presenting some of the popular products that are favorites in more than 150 countries, distributed through our global network of ten foreign branches. (As of September 2016)
Study Beauty
Attend lectures and brand seminars to acquire advanced techniques and knowledge for added-value salon services.
4th Floor
The LebeL creation floor supports several kinds of skill development for hair designers.
LebeL Brand Booth
Visual presentations of the latest information on LebeL brand hair products, events and trends, in an open layout.
LebeL Studio
A night school based on the educational programs proudly offered by LebeL, with courses from basic to master levels, bringing you a step ahead on contemporary trends.
Photo Studio
A fully equipped photo studio, to turn the creative sensibility of hair designers into enduring works.
※Please inquire for details about using the studio.
5th Floor
Practical skill trainings for shampoo, esthetic and nail services.
Brand Display
Experience the worldviews of ESTESSiMO, Dermalogica and other cosmetic brands that support top-quality salon services.
Shampoo Studio
Three large and small studios equipped with a total of 15 shampoo stations. Ideal for head spa and shampoo trainings, as well as free personal practice.
Esthetic and Nail College
For those seeking more highly specialized skills, the Esthetic and Nail College operated directly by Takara Belmont is also on the premises.
※Please make your reservation for your visit.
An advance reservation is required for your FIND50 experience.
Please feel free to contact us from website or by e-mail.
Access

2-13-22 Shimanouchi, Chuo-ku, Osaka 542-0082
TEL : +81-6-6212-3523
FAX : +81-6-6211-5745
Open Monday through Friday, 9:00 to 17:30
Closed on public holidays* and during the summer and New Year breaks
*Open on a public holiday that falls on Monday.
Access via Subway
Sakaisuji Line: 3-minute walk from Exit 6 of Nagahoribashi Station
Midosuji Line: 7-minute walk from Exit 6 of Shinsaibashi Station
We do not provide parking space.
Several coin-operated parking lots are nearby.